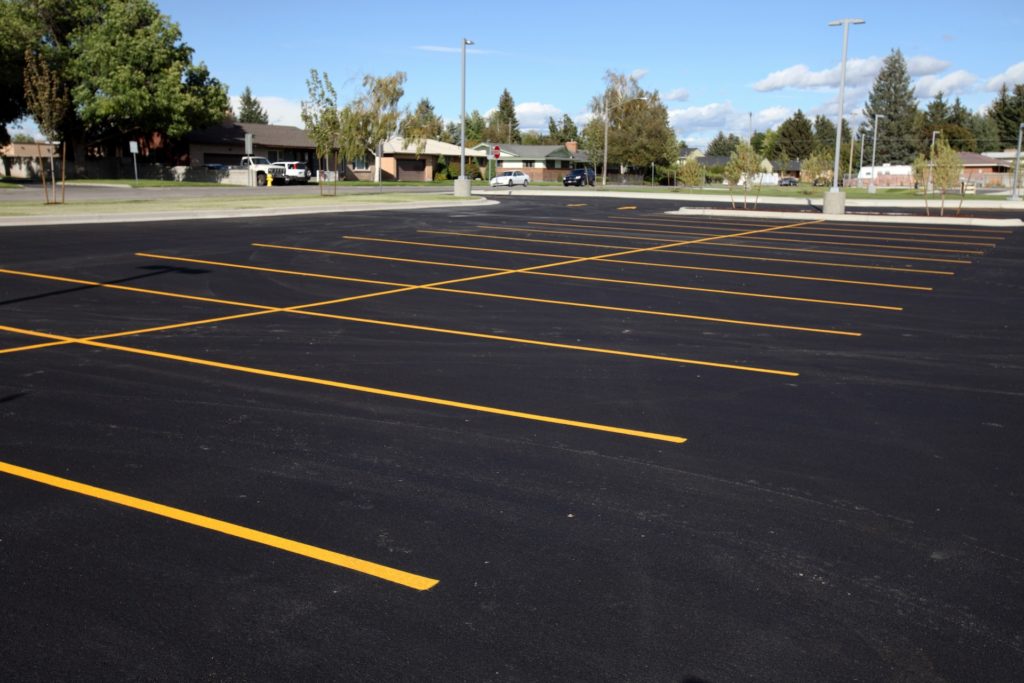 Did you know that about 25% of pedestrian-related accidents occur in parking lots? Parking lot safety isn't a given and without the right precautions in place, they can be dangerous and even elicit criminal activity. Parking facilities are actually the third-most frequent place where violent crimes happen, with nearly 1,400 attacks occurring each day across the United States. It's imperative that your customers and employees feel safe at all times on your property, therefore, it's important to take proactive steps to ensure a safer parking lot. Here are a few tips to help keep your lot patrons safe and happy.
Utilize Security Guards
If you already have security personnel on your premises, utilize them as safety escorts. If anyone feels uncomfortable walking back to their car during dark or low-traffic hours (or any time of the day), you could simply let them know that security staff are available to them. Another strategy is having security officers patrol your parking lot—a standard method that helps increase the safety of those using your facilities. Well-trained and supported security officers can serve as a powerful deterrent to crime like vandalism and tagging.
Add Surveillance Cameras
One thing that helps deter petty crime is video cameras. They provide an excellent resource to solve—and prevent the occurrence of—issues like harassment and theft. However, just having video surveillance doesn't cut it. The cameras have to be monitored to be effective. Unmonitored surveillance systems create a false sense of security among parking patrons, making them less vigilant against potential crime. They also increase your legal liability if crimes are committed in front of them.
Update the Lighting
Well-lit parking lots are easier to safely navigate because motorists and pedestrians can see better. Good lighting helps to reduce the likelihood of accidents as it improves the ability to see potential hazards. It's also important to minimize shadows beyond driving and pedestrian areas where attackers could hide. Adding lighting fixtures evenly throughout the space should help to prevent this. LED lights provide a bright and high-quality light that is eco-friendlier and more cost effective than traditional incandescent bulbs.
Control Traffic Flow
Controlling the flow of traffic will help prevent cars from driving in the wrong direction or through the parking lot, reducing the risk of accidents. A few methods of doing this are creating separate entrances and exits, installing speed bumps to reduce vehicle speeds, making sure parking spaces have visible lines and adding pedestrian crossing signs. Communication is one of the most effective parking lot safety tips and installing signage to communicate with pedestrians and drivers alike is key to improving safety.
Install Raised Structures
According to the Commercial Real Estate Development Association, at least 50 accidents occur per day that involve vehicles running into commercial buildings. Adding bollards in front of stores will help prevent the risk of damage to storefronts from vehicles. Raised curbs, landscaping features or bollards should also be installed next to sidewalks to physically separate pedestrians from traffic. Additionally, adding raised islands to the end of parking rows prevents drivers from parking in illegal areas—granting drivers and pedestrians better visibility.
Implement Cart Corrals
If your property supplies shopping carts, cart corrals are important to have because they prevent carts from rolling through the parking lot and damaging cars, pedestrians and buildings. Cars aren't the only threat to buildings, though—carts run into them far more often than you might assume. However, adding just one cart corral isn't enough. If it's too far away from where a customer has parked, chances are they won't make the journey to return it. At least one cart corral should be placed in every aisle.